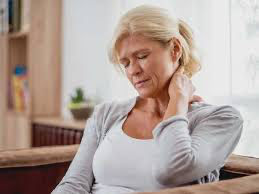 Physical therapy can help you get rid of it without medication.
By Sukie Nau, DPT/Owner, NAU Physical Therapy & Wellness
Admit it: This pandemic has become a real pain in more ways than one.
You may think you have a headache, but your neck might be the culprit causing you pain. It may be a cervicogenic headache.
If you have cervicogenic headache, you often experience a headache accompanied by neck pain and stiffness. These arise from certain neck movements that cause nerves and blood vessels into the head to tighten in the muscles and joints.
Stress, poor posture, and/or strenuous physical activity may cause these neck movements. But typically, it's a combination of all three.
In most cases, cervicogenic headaches develop on one side of the head. They start at the back of the head and neck and radiate toward the front.
In addition to headaches, you may experience blurred vision, vertigo, and pain around the eyeballs and one side of the head. Taking an anti-inflammatory may dull the pain, but it could also wreak havoc on your stomach and kidneys.
If your headache doesn't go away even after taking anti-inflammatories, you should see your neurologist. He/she may refer you to physical therapy.
At NAU Physical Therapy & Wellness, your physical therapist will perform a physical assessment, and focus on what may be contributing to the pain.
Then, we'll do manual physical therapy to fix muscle imbalances, along with guided visualization, deep breathing, and electric acupuncture for muscle tension.
The main thing is to catch it early. Once we find that the cause of your headache is really your neck, we can help you get back on the road to recovery relatively quickly.
For more information, or to schedule a free consultation, call our office today.